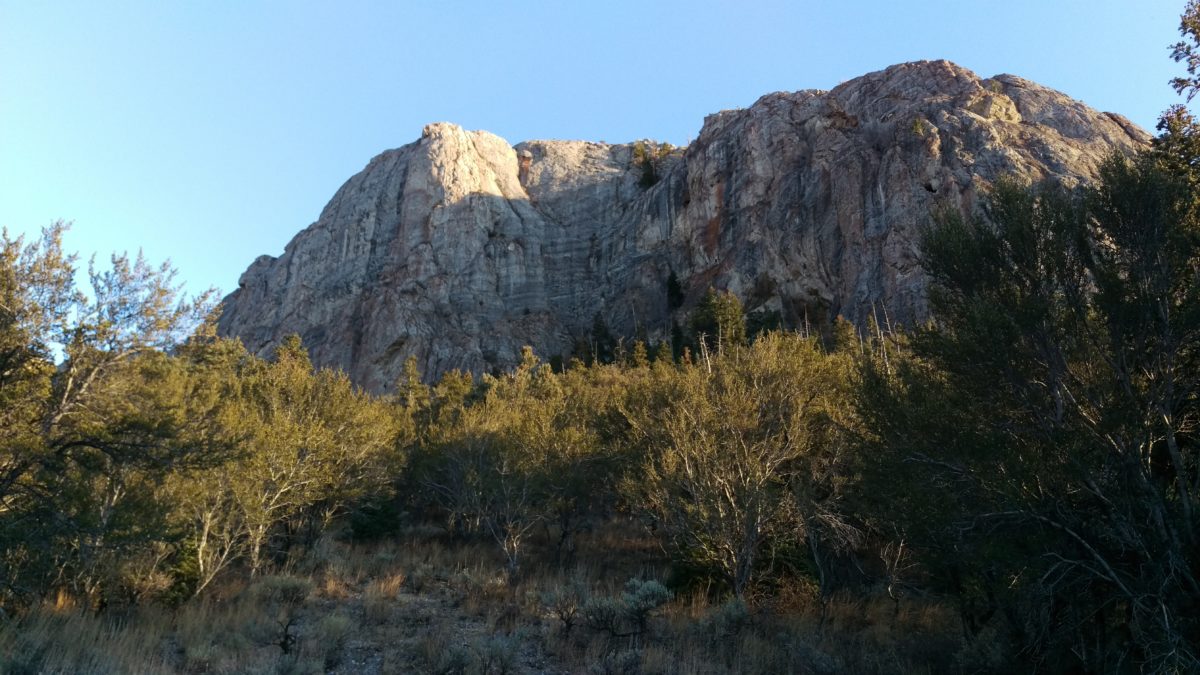 Ely, Nevada – Rock Climbing
Ely is a small town in northeastern Nevada. It also happens to be my home town. Every year, I make a short trip to Ely to visit friends, family, and to get away from the city. During one of my visits in 2015, I discovered a canyon near Cave Lake State Park that has an impressive amount of established sport climbing. This discovery led me to research the area and try to compile information about Ely's local climbing areas.
Since then, I've located several people who have climbed and/or developed routes in the Ely area. With their help, I've started to gather beta for some of the local limestone areas. There is still a lot of missing beta for these areas. But, this article should provide a good starting point.
Note: I've listed several routes below as "unknown". It may be some time before official information for these routes is known. Items
Valley of the Kings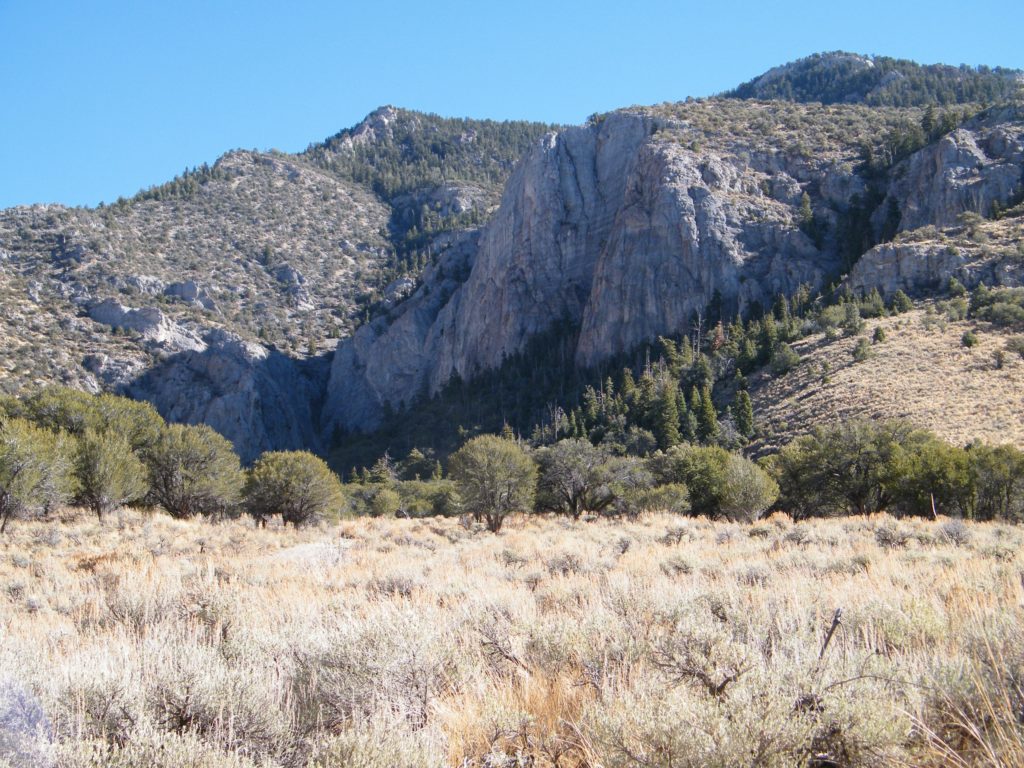 Valley of the Kings is an awesome limestone canyon just north of Cave Lake State Park. Route development in the area started in the late '90s. A group of climbers from Salt Lake City area developed a variety of sport routes ranging from 5.10 to 5.13. The Valley of the Kings has over 20 established sport routes scattered throughout the canyon. This marks the largest saturation of established sport climbing in the Ely area.
You will find both single and multi-pitch climbs in the canyon. The easier routes (5.10) in the canyon are predominantly slab. The hard routes (5.11-5.13) vary from steep to overhanging terrain consisting of pockets, thin edges, cracks, and face features.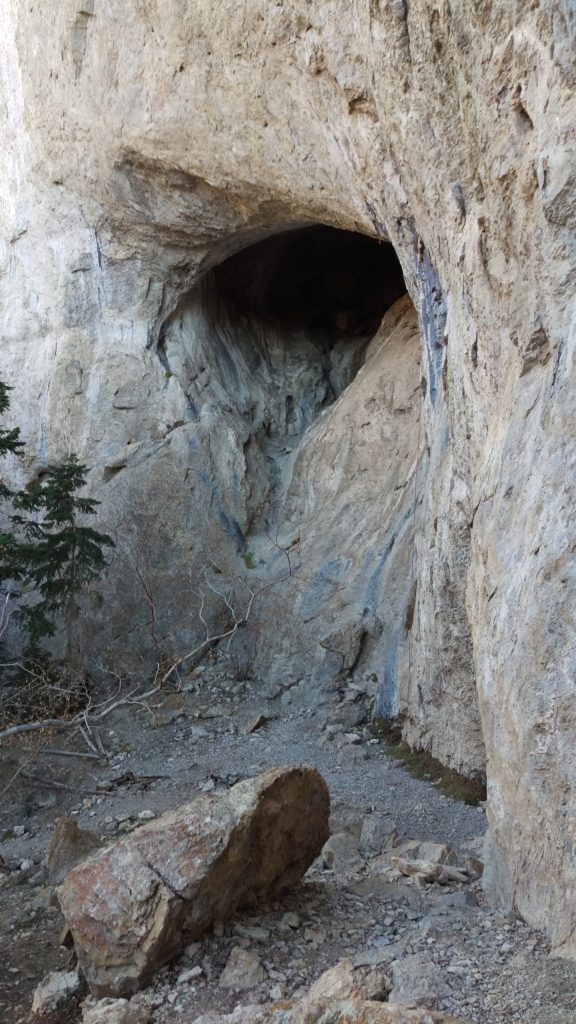 Climbers should expect hard climbing on mixed quality rock. Strong climbing skills, rigging knowledge, and a keen sense of adventure is recommended. I'm still compiling route beta. However, it's confirmed that most routes in the valley are graded in the 5.11- 5.13 range.
The Valley of the Kings doesn't see much activity. Therefore, existing fixed lines and draws should be evaluated for safety. Aging hardware, lack of beta, and land access all pose potential issues for this area. Climbers should be prepared to navigate these issues if they want to climb in the valley.
I've personally enjoyed exploring this area. However, many of the routes are too advanced for me. I also don't find myself in rural Nevada much these days. But, I believe the valley has some real potential.
Directions: From the Cave Lake Turnout (see map below), you will want to head North East on White Pine County Rd 29 for 2.3 miles. The Valley will be on the right (east) side of the road. Follow the dirt road into the Valley past several small campsites.
The West Wall **
The West Wall** (unofficial name) is located near the Cave Lake turnout off highway 486. The two leftmost routes on the wall are the easier of the four (5.7 and 5.9 respectively). While the two rightmost routes (closest to the road) are quite a bit more difficult. The approach to this wall is quick and offers some easier climbing in contrast to other routes in the surrounding area.
The first ascents, names, and official grades of these routes are unknown. In addition, the hardware is of unknown age. Like all routes in the area, beta is hard to come by. Inspect the hardware before you commit and climb with caution. Assume all hardware is dated.
Unknown (5.7)
Unknown (5.9)
Unknown (?)
Unknown (?)
Directions: Navigate to Cave Lake State Park. About a quarter mile before the uphill turnout (NF-574) that goes up to the lake, you will see a pullout on the South East side of HWY 486. Park here to access the West Wall.
Table Rock
Table Rock is out near Cave Lake State Park. As you're driving east on Highway 486, you will see it on your right side (south). It's a pretty unmistakable "tabletop" rock formation. I've personally never been out to table rock, but according to an old Rock and Ice article, there are several routes ranging from the 5.8 to 5.12. You can read about them here.
Germanic Depressive (5.12b)
Mon Amour Physic (5.12c)
Zillertabler Pouncho Hunters (5.12a)
Smooth Deflorator (5.11d)
Old Route (5.8)
Topolino (5.11d)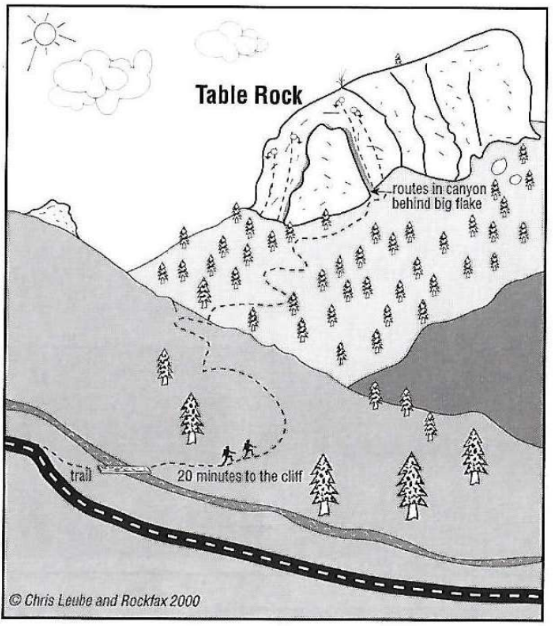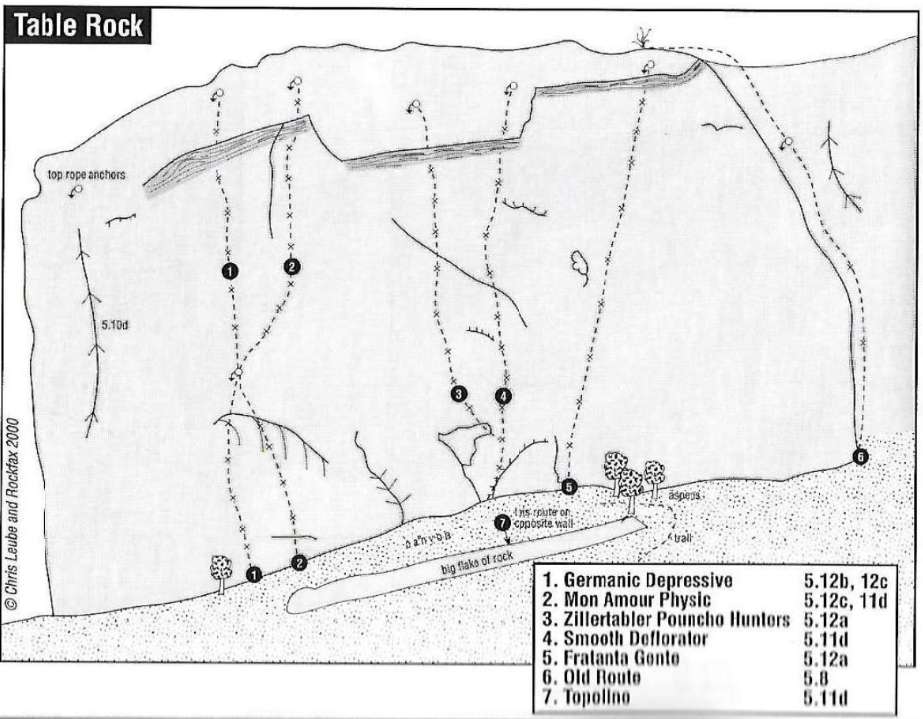 Directions: Navigate to Cave Lake State Park. About a quarter mile before the uphill turnout (NF-574) that goes up to the lake, you will see a pullout on the South East side of HWY 486. Park here. This is the same parking area for the West Wall listed above. Cross the river and follow the trail towards Table Rock. The climbs will be on the Northern side of the formation, in a canyon, behind a big flake.
Hercules Gap
Hercules Gap is an area just outside Ely off of State Route 490. The road travels through a narrow corridor. It's within this corridor you will find several bolted single pitch and multi-pitch sport routes. I've yet to uncover any official information about this area. But, most of the routes appear to be 5.11 and up.
GPS: 39.3509,-114.8918
Additional Resources
Tags In
Klaasic
Klaasic is an outdoorsman experienced in camping, hiking, rock climbing, and skydiving. He enjoys sharing his stoke for the outdoors through writing and visual media.